'Catholic' Dating Sites*
Along with Catholic Passions (the site you are on now), the sites listed below all focus on connecting Catholic singles with others who share the same faith in God Almighty. The sites listed below are focused on Catholic dating While others are focused on Catholic chat. The primary goal is to connect Catholics though. Each site, regardless of the company running it, shares many of the same features and characteristics as many of the other sites, so if you are looking for a great Catholic dating site, then there are plenty here to choose. Look through the ones listed to find the one that seems like the best fit for you.
AD

Catholic Dating Connexion
Meet Catholic Singles! Find Love Tonight!
Looking for a quality single Catholic man or woman who shares your beliefs? If attending Mass is part of how you plan your week, then Catholic Dating Connexion is the site for you. Who knows, maybe your soul mate is online right now. Join today to find out.

Meet Local Catholics
Meet Local Catholics for Real Relationships
If you are looking for that special someone to share your life with or for someone to simply have fun with, Meet Local Catholics is aimed at and dedicated to helping you. Join today to meet like-minded Catholic singles near you.

Catholic Mates
Start searching 1000's of Catholic Mates in your area today!
Catholic Mates is designed specifically to help single Catholics find love online. If you are curious about online dating and you are looking for the right Catholic dating site for you, Catholic Mates could be your ticket to a loving faith-filled relationship.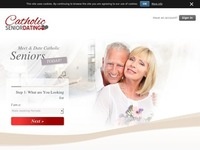 Catholic Senior Dating
Meet & Date Catholic Seniors
Members of Catholic Senior Dating embrace the cliché that 'age is just a number'. If you still feel young at heart, and that heart is filled with God's love, then Catholic Senior Dating could be the site you have been looking for. The only way to know is to join.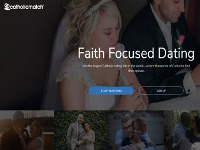 Catholic Match
"Faith Focused Dating"
"Discover why Single Catholics all over the world have joined CatholicMatch to search for the one God has planned for them."

Catholic Senior Next
"Feel Young Again! Meet Senior Catholics Seeking Romance!"
Catholic Senior Next is a dating site catered towards Catholic singles ready to embrace a new chapter in life. Meet local Catholic singles over 50, and find someone who shares your faith & lifestyle today!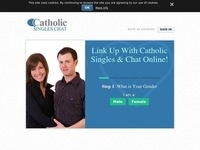 Catholic Singles Chat
"Link Up With Catholic Singles & Chat Online!"
Find Catholic friends and more on Catholic Singles Chat. Enjoy a site where you are surrounded by people who share your faith and your beliefs. When you are ready, strike up a chat or even connect for webcam chat.

Catholic Interracial Dating
"Date Catholics of All Races and Colors"
"Meet Single Women and Men Who Share Your Catholicism But Not Your Racial Background! Make a Friend, Get a Date, or Even Find Love Today!"

Find Catholic Love
"Love is at Your Doorstep at Find Catholic Love!"
While there are no guarantees with any online dating site, this name of this site, Find Catholic Love, is aspirational and hopefully where you will do exactly that. Join today to see if the name actually works for you.
AD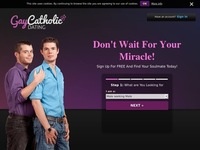 Gay Catholic Dating
Find Gay Catholics Here
While for some people, just the name of this site is blasphemy. For others, it is simply a very truthful description of an aspect of humanity that is reflected within every religion. In other words, yes, there are gay Catholics and if you are gay and Catholic, welcome! Join today to find a man who shares your Catholic faith!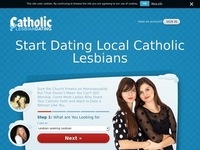 Catholic Lesbian Dating
Find Lesbian Catholics Here
Why should gay Catholics have a site for themselves? Lesbians who practice Catholicism deserve an online dating site just for them as well. Join today and meet the Catholic lesbian of your dreams!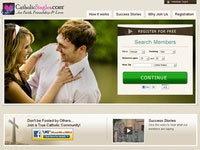 Catholic-Singles
"Find Your Soul Mate at Catholic Singles"
"Connect With Women and Men Who, Like You, Follow the Teachings of the Catholic Church. After All, Having Something Like Religion in Common is a Sure Fire Way to Make a Love Connection Today!"

Divorced Catholics Dating
Find Divorced Catholics Here!
The world has changed and divorce happens, even to Catholics. If you are divorced and Catholic and you are looking for someone who understands and who shares your faith in God, then Divorced Catholics Dating is for you!

Catholic Chat City
Talk Faith, Life, and More!
Meet People Who Share Your Faith at Catholic Chat City

Catholic BBW Dating
Find Your Big Beautiful Soul Mate
If you prefer women who are as large in shape as they are large in faith, then enjoy Catholic BBW Dating where you will find curvy women who share your Catholic beliefs.
AD
Catholic Singles
"The Only Catholic Dating App with FREE Messaging."
Catholic Chemistry
"Developed by Catholics for Catholics"
Catholic People Meet
"Meet Catholic Singles Locally"
Ave Maria Singles
"Where Devout Catholics Meet."
AD
*Sites listed on this page are a combination of ads, affiliate related Sites and general non-partnership related sites that match the theme of Catholic Passions.